UPDATED: Six reasons for a newsletter
UPDATED: Six reasons for a newsletter
/images/uploads/blog/OMG-Austin-06.17-Blog_.jpg
Omaha Media Group
https://www.omahamediagroup.com/images/uploads/monster_gallery/Omaha-Media-Group-Black.jpg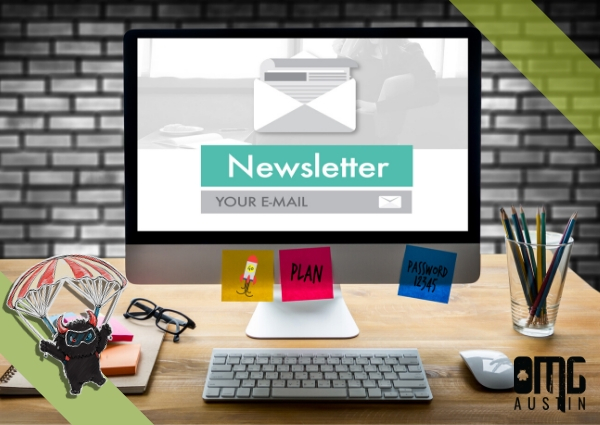 With TikTok, Instagram and other popular social media platforms, email marketing and newsletters might seem like it is from the Flintstone era, but in all reality, over 333 billion emails get sent out each day!
An email marketing campaign often has one of the highest return of investment (ROI) of 122 percent for companies who strategically and properly utilize email marketing as part of their overall marketing strategy!
The thing is, not every email should be a promotional piece, so what other types of content can you focus on? One of those strategies is a newsletter! Here are the benefits of a newsletter and six reasons why a simple email newsletter could help a company's overall strategy.
What is the number one notion all companies are searching for when paying for a product or service? Is it cost-effective? A service or product that costs more and does not provide a decent return of investment might not be worth it.
It is estimated that for every $1 spent on email marketing can generate a $44 return of investment for a company. This is great for a company! Count us in! Now, this is subjective to the email marketing and client, but it could be you!
There are so many services out there that provide a company with free or minimal charges for their email marketing services! A great example is using Canva when a company wants to send out their emails in-house!
This is a free tool that has templates that can be customized and easily integrated with the email marketing platform! A professional checks their email 15 times a day at minimum and this does not include checking their personal emails!
One of the benefits of a newsletter is that it can be distributed with content and marketing strategies that are already set in place! This is a cost-effective solution and provides marketers with the ability to repurpose really great content. (Which also saves time and money!)
It appears that year after year companies are willing to spend more money on email marketing strategies because of the return of investment. A number of companies approach a marketing agency Austin regarding their email marketing efforts because they might not have a team that can provide the results in-house or it is simply just cheaper!
Brand awareness
A company's brand is so critical because it is what consumer's know that company for, whether it be good or bad- branding with marketing efforts fosters your brand as the leader in the industry.
It not only creates your brand as a leader in the industry, but it also fosters trust and creates a loyal customer base. With thousands of websites, social media accounts, blogs, news articles and so much content on the internet, it can be hard for a company to break through the noise, but that is why you need a newsletter!
A weekly, monthly or annual newsletter can set you apart from the competition. Who is your company? What are some awesome things happening? Let people know, it does not have to be a sales pitch, but a simple message to be more human!
Who will find you? Americans are spending 12 hours a day using mobile devices, Internet, laptops and so many other digital devices. This means consumers are bombarded with ads each and every day, so this is how a company can utilize its newsletter to stand out against the competition.
It takes about seven times for a consumer to start recognizing your logo or company. It takes about 15 times before they start to trust you. In this digital world, brand awareness and trust are two crucial notions to provide consumers.
With 333 billion emails estimated to be sent by 2022, it is a no-brainer that everyone has an email. A person needs an email to sign up for social media, get promotions from e-commerce companies and even sign up for GrubHub! The moral of the story is, if there is a consumer there is an email marketing strategy for that consumer.
Personalization
This is another one of the benefits of a newsletter because it provides a place to be more aware and personal.
This could be the difference between a real person in an image over a stock image. With email marketing, personalization could be a simple switch of "Hey followers, " to "Hey __, thanks for subscribing."
It is the little things that can really make all the difference. It makes consumers feel as if the company cares about them and their subscription or dedicated loyalty to the brand.
Stay in touch
Yes, social media marketing is a wonderful way to stay in touch with consumers and clients, but sometimes an email marketing newsletter just gives it a bit of that personalization our experts explained above.
If a consumer signed up for the newsletter, they are interested in the type of content that is being published and promoted. This is just another avenue for a salesperson to lock down another sale or to segment followers based on where they came from and what type of content this potential customer is interested in.
Don't worry about being an annoying company because 64 percent of consumers want brands to interact with them! All in all, if a company has created an email list with loyal email followers then send the dang email or newsletter.
Share this post
Comments