Expected SEO trends for 2022
Expected SEO trends for 2022
/images/uploads/blog/OMG-Austin-12.29-Blog_.jpg
Omaha Media Group
https://www.omahamediagroup.com/images/uploads/monster_gallery/Omaha-Media-Group-Black.jpg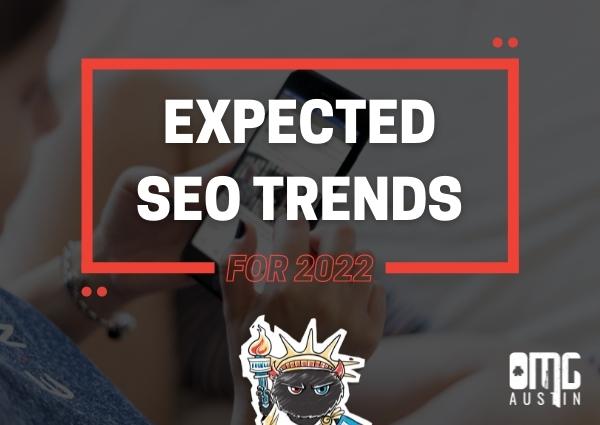 Search engine optimization, SEO, is one digital marketing strategy many companies use to bring the right audience to their website. However, just like anything digital, everything changes and evolves to fit consumers' needs.
SEO is no different. Companies need to stay on top of the latest SEO trends for 2022 to get the desired results and stay ahead of the competition. Our SEO Austin TX team wants to share some expected SEO trends in 2022.
SEO Trends for 2022
Online shopping made easier
One digital trend is taking over in 2022: online shopping. You can already see this trend with the rise of social commerce. Many social media platforms, like Facebook and Instagram, have started implementing shopping features on posts. Search engines are also jumping on this trend.
In 2022, search engines will make online shopping easier for consumers through search results. Google has already started to do this with their Google Shopping Graph. This feature enables Google to recommend products to users based on availability, reviews and prices. We expect search engines to continue improving the online shopping experience.
Longer content will be king
Since one of Google's algorithm ranking requirements is how long people stay on your website, longer content will be king. People may start to see a shift from 500-word blogs to 3,000 or more word blogs. Why do websites want to have long-form content?
Well, long-form content will keep users for extended periods on your site. The longer a user stays on your website, the better Google will rank your site. When writing longer content, make sure it keeps the user engaged, so use headers and spacing to make it easier for users to digest your content.
More video content on websites
One thing that we have seen in the last few years is the explosion of video content. Social media platforms like TikTok and Instagram's Reels have skyrocketed the popularity of video-based content. More and more users are looking to consume content in video form.
That means that companies need to consider adding video content to their websites. Not just uploading a Youtube video or Reel onto the site but also optimizing it for search. Thankfully Google has released a guide for the best video practices, so users can find your videos easier with their searches.
Implementing Google Core Web Vitals
Google began to roll out its Core Web Vital update on June 16, 2021. This update is set to focus on user experience. Most users want to visit a user-friendly website that works without any issue. One factor that is important for users is page speed.
If your site takes more than three seconds to load, more than 40 percent of users will abandon the site. Google will consider your page abandonment rate when ranking it. You can improve your site's user experience by ensuring your site is updated to meet the latest Google's Core Web Vitals. Google is expected to update page experience signals each year.
Are you looking for an

SEO Austin TX company?

If you want to incorporate these SEO trends into your existing SEO strategy, let us help. Our SEO experts can help elevate your SEO to fit the current SEO trends. Contact us to learn about our SEO services.
Contact Us
We want to hear from you, so what are you waiting for? Contact us today.
Get In Touch
Share this post
Comments