SEO strategies for plumbing companies
SEO strategies for plumbing companies
/images/uploads/blog/OMG-Austin-08.03-Blog__1.jpg
Omaha Media Group
https://www.omahamediagroup.com/images/uploads/monster_gallery/Omaha-Media-Group-Black.jpg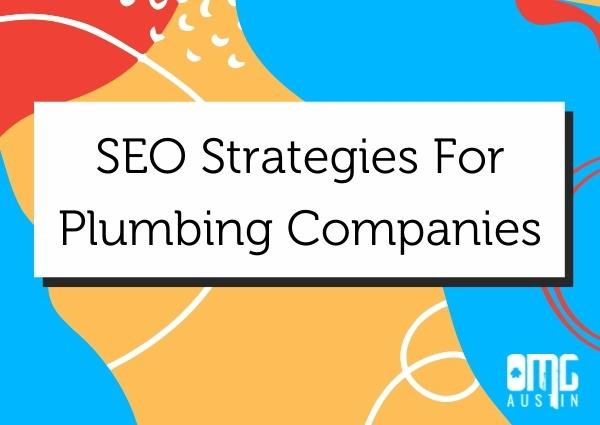 Of all the businesses in the United States, 99.9% of them are considered small businesses. There are currently more than 30 million small businesses in the U.S.. One category of these small businesses is plumbing companies. These businesses provide plumbing services to local residential and commercial spaces.
If you are the owner of a plumbing company and want to grow your business, you should invest in digital marketing services from an SEO Austin TX company, like OMG Austin and do it yourself.
No matter what your digital marketing approach is, you will want to include SEO in your overall strategy. Check out these SEO strategies that your plumbing company should consider using.
What is SEO?
SEO is short for search engine optimization, which is the process of optimizing your website to increase its visibility on search engines. It helps your web pages show up when people search certain keywords related to your industry. The more visible your web pages are, the more likely people are going to do business with you.
Why is SEO important?
46% of the searches done on Google are to find local businesses. That means if your website is left out of these local searches, you could be losing valuable customers. An SEO strategy with a focus on local keywords can ensure your site shows up when potential customers search for certain keywords in a certain area.
SEO tips for plumbing companies
Use related keywords
Keywords are words or phrases that people type into search engines to find information about a certain topic. These keywords are an important part of any SEO strategy because they help content rank higher in search engines.
Business owners should remember that homeowners are not looking for company names. They are either typing generic words into their Google search bars or asking Siri. Some examples of generic keywords they may use include "plumbers near me," "plumbers in Austin" or "plumbing services in Austin."
Create a Google Business Profile
Aside from using keywords in your content, you also want to create a Google Business Profile. This is a free tool from Google that lists and helps manage your company across Google products, such as Google Maps and Google Search.
Companies must first claim their business ownership and then they can add information. They can include operating hours, photos, directions, reviews, website links and social media pages. Creating one of these profiles will help boost your visibility on the search engine results pages of potential customers.
Create informative and searchable content
SEO and content marketing go together like peanut butter and jelly. Creating valuable and unique content can help you reach your target audience and hopefully generate new leads. This kind of content can vary from blogs and list-based articles to infographics and videos.
Some examples of good content for plumbing companies to create could include: "What do you do if your kitchen drain is clogged?" or "How to stop a leaky faucet." Do not forget to also push this content on social media to expand its reach and allow existing customers to interact with and share it.
Are you looking for an

SEO Austin TX company?

Hire OMG Austin! Our SEO strategy has taken us years to perfect, so we are confident when we say: it works! Contact us to learn about our SEO services.
Contact Us
We want to hear from you, so what are you waiting for? Contact us today.
Get In Touch
Share this post
Comments