Facebook Algorithms: how to defeat the algorithms
Facebook Algorithms: how to defeat the algorithms
/images/uploads/blog/OMG_Austin-10.09-Blog_.jpg
Omaha Media Group
https://www.omahamediagroup.com/images/uploads/monster_gallery/Omaha-Media-Group-Black.jpg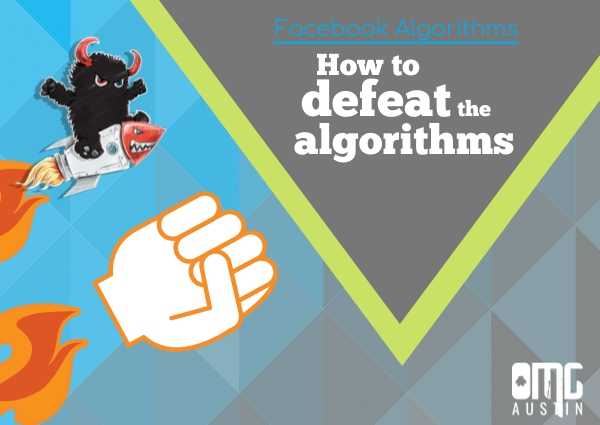 The digital marketing world continues to change over the years and sometimes even months. What was once the best strategies can slowly turn into an outdated way of thinking. One of the biggest changes that continues to happen with Facebook and other social media platforms is algorithm updates. Yup, just like Google, social media platforms have regular updates as well.
Here's the marketing scope on the algorithm changes and how to beat them!
In Q1 of this year, there were over 2.3B active members on social media platforms. As one of the largest social media platforms out there, Facebook is a vital tool for digital marketers. However, in recent years, Facebook has made it more difficult for digital marketers and businesses as a whole on the social platform due to algorithm changes.
In 2018, Facebook released the biggest algorithm change that has affected business's organic reach and traffic to the business page. Mark Zuckerburg released this statement that had marketers frantic, "I'm changing the goal, I give our product team from focusing on helping you find relevant content to help you have more meaningful social interactions." Why did marketers freak out over this? Because at the end of the day, this has changed the current landscape of marketing on Facebook.
This statement was released with the first major algorithm update that cut back on how much brands and businesses were showing in someone's feed. Facebook had switched back to its roots which was being about family and friends and their social interaction. At this time, organic traffic for most businesses was easy-peasy lemon squeezy. A post would be published and it was doing wonderful!
Zuckerberg continued with this statement suggesting that marketers change their tactics to create a community and conversation around social media.
Fast-forward to now, and this same algorithm is present but another one has been added. Have you noticed seeing old posts time and time again? This is because of the Facebook Algorithm showing a user content that is "worthwhile" from close friends and family members.
The posts that are coming up on your Facebook page are associated with the posts you engage with the most! The more you like Tina's baby pictures, the more they will show up in your timeline!
What are digital marketing agency Austin Texas doing to combat a decrease in business content being shown? Evolving.
The evolution
Pay to play
Part of this evolution of marketing on Facebook is the notion of "paying to play." Facebook itself has mentioned on several different occasions that the Business Page's organic reach is dying. Facebook has made it difficult for businesses to reach their target audience without some type of boosted posts or Facebook ads within their organic strategies. It is estimated that only 16 percent of fan pages reach their audience. Yes, only 16 percent.
This is the one way to get your content in front of a target audience no matter if they are liking or engaging with your posts. If you boost it, it will show on their feeds. A Facebook boosted post is simply what is sounds like, boosting a post.
It can cost anywhere between $20.00 to $500.00 and reach as many as 100,000 people per day! This is a simple and effective way to break through the organic posting decrease that has been happening.
Another strategy is Facebook Ads. As Facebook continues to provide new features on the social media platform, not too long after boosted posts were widely utilized, Facebook Ads were launched to businesses all over.
On average, people are spending 40 minutes per day on Facebook and millennials are waking up and checking Facebook first thing in the morning. It is their daily newspaper. Facebook Ads provide marketers with a plethora of options when setting up the ads from generating leads to increase engagement! Yes, remember the whole thing about engagement above, you can create Boosted Posts and Ads based around increasing engagement to show up in feeds. Pay to play right there in full force. What else can you add to your strategy?
A video can increase reach and engagement on those Boosted Posts and Ads.
YouTube will be and always will be the reigning champion when it comes to videos, but social media is seeking for more and more videos on their channels as well! Facebook announced that videos will outperform images on their platform.
While video is better, posting from a third party still does not perform as great. This is because Facebook wants their users to stay on their platform. This means all videos should be published and uploaded to Facebook in their raw formats.
As video continues on the platform, digital marketing agency Austin Texas suggest a business to play with Facebook Live! The best part is you can pre-record the "live" footage and post it as if it is "live."
This is the newest way for digital marketing agency Austin Texas to reach out to consumers and nurture leads. There are 2.3 billion users on Facebook daily and every one of those accounts has a messenger attached to it. There are 1.2 billion people using the messenger portion of the social media platform daily.
How can this be utilized? Facebook boosted posts and ads are the first way. There is an option for Facebook posts and ads to have a consumer "send message." This message can help nurture that potential lead into a sale! The second way is reaching out to consumers via the app (cold call but over Facebook). This has been successful for large companies such as LEGOs during their holiday sales and promotions.

While your business might not be LEGOs, it can still use all of these strategies listed out above with the professional help of a digital marketing agency Austin Texas!
Contact Us
We want to hear from you, so what are you waiting for? Contact us today.
Get In Touch
Share this post
Comments