Four things every small business website needs
Four things every small business website needs
/images/uploads/blog/OMG-Austin-03.09-Blog_.jpg
Omaha Media Group
https://www.omahamediagroup.com/images/uploads/monster_gallery/Omaha-Media-Group-Black.jpg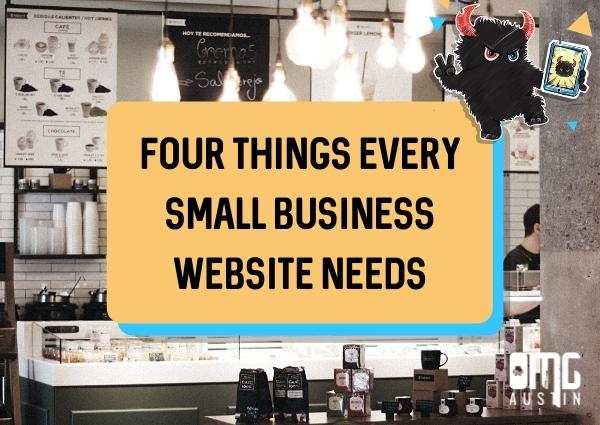 Most of your potential customers' journeys start online. That means that your website should be optimized for search engines and appeal to your customers. If your website's design or development is not user-friendly, people will click off your site just as fast as they clicked on it.
Learning what makes a website good can help you build or redesign your company's site to better fit your customer's needs. Our web design company Austin team wants to share how to develop your site and what it should have to be successful
How you can develop your website
Today's technology allows people to create websites without a single knowledge of code. Websites, like Wix and SquareSpace, allow users to make sites using pre-designed templates. All you have to do is drag and drop. Although this method sounds easy, there are some downsides to choosing this method, like non-custom design, slower speeds and not being SEO-friendly.
Another option to make a website is hiring a web design and development company. These companies can handle everything from design development to regular maintenance. How it works is they will hold a consultation to discuss what you are looking for in a website, and then they can handle the rest. The great thing is that professional website developers oftentimes have years of experience, so they know what will work best for your site.
Whatever you decide to do, our web design company Austin experts suggest you include these things on your site.
Four things every small business website needs
Easy navigation
One of the most important things you need in your website is easy-to-follow navigation. You want to make sure the links to your most important website pages are visible. That way, people can click on your site and find what they are looking for. Some pages your site should have to include a:
Home page

About page

Services/products page

Blog or news page

Contact page

Terms and conditions
Do not forget to also have an easy-to-read sitemap. This is a blueprint to your website that helps search engines find, crawl and index your site's content. Keeping it easy to follow can help improve your site's ranking.
Simple web design
Another essential element every site needs is an easy-to-follow layout. A website's design is how its visual elements are arranged on a webpage. If your site's structure is crowded or hard to follow, people may click off your site. Some good layouts to use for your site include the Z-pattern and F-pattern layouts.
Responsive design
Most people access websites through their phones, tablets or laptops. Your website needs to be responsive to the user's behavior and environment based on the screen size or orientation. If your site does not have a responsive design or development, users might have a hard time navigating through your site.
Effective security
Your customers want to feel secure using your site, especially if your site is an e-commerce site. Virus, malware and hackers can try to breach your site through the front or back end. You must make sure your site has effective security. Make sure your site has SSL certificates, the framework has been reviewed, and regular security checks are conducted.
Choose the best

web design company Austin team to develop your site!

Get your company's website developed and designed by some of Austin's best developers. Our team can create any type of site of your dreams. Contact us today to learn more about our web design and development services.
Contact Us
We want to hear from you, so what are you waiting for? Contact us today.
Get In Touch
Share this post
Comments