Four ways to spring clean your website
Four ways to spring clean your website
/images/uploads/blog/OMG-Austin-04.20-Blog_.jpg
Omaha Media Group
https://www.omahamediagroup.com/images/uploads/monster_gallery/Omaha-Media-Group-Black.jpg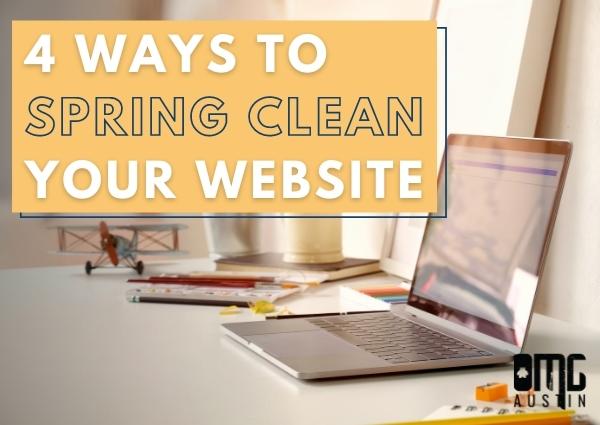 For many people, spring is the prime time to do major cleaning around their houses and businesses. As a business owner, you should also consider doing some spring cleaning on your small business' website. Your company's site is the first thing that business owners see.
So you want to make sure your site looks professional and active. Here are some simple ways you can spring clean your website and how a website design company Austin professional can help along the way.
Fix broken links
There is nothing more annoying for a user than when they click on a website link and get the 404 page. This page is an indication that a link is broken. A broken link is a web page that cannot be found or accessed by the user.
The good news is that these links are fixable if spotted and with the help of a website design company in Austin. There are websites available that help you find broken links on your site. Fixing these links can improve your users' experience and enhance your SEO strategies.
Update content
Links are not the only thing you should be updating. You should also take time to update your site's content. The last thing you want is for a visitor to click on your site to see old content on it. It may cause your audience to think that your site is inactive and less likely to do business with it.
During your spring cleaning for your site, make sure that content is updated with correct information, add any upcoming events and new services. While you make these changes, be sure to also be on the lookout for any grammatical and spelling errors.
Improve your website's accessibility
Every business owner should have a goal to make their website as accessible as possible for everyone. That means you should also consider those who are visually impaired. You can make your website more accessible by adding alt tags to your site's images.
Alt tags are HTML attributes that provide a text alternative for search engines. On top of helping those who are visually impaired, they also help search engines when it comes to ranking. Adding this kind of tag helps search engine crawlers inspect and index the pages faster.
Refreshen images
When was the last time you updated your website's images? One or four years ago? If it has been a while, then it is time to switch up those images. Having outdated images on site can give your customers the impression that your business is no longer active.
Swap out images of old employees or your building. If your site has more graphics, consider updating them to fit current graphic design trends. For example, the graphic trends right now are the 90s-inspired designs.
Contact a

website design company in Austin.

If you need an extra helping hand making these changes, consider contacting a website design company in Austin. Our team can help you with everything from completely redesigning your site to making simple design changes. Contact us to get started.
Contact Us
We want to hear from you, so what are you waiting for? Contact us today.
Get In Touch
Share this post
Comments