Reasons why the design of your website matters
Reasons why the design of your website matters
/images/uploads/blog/OMG-Austin-07.06-Blog__1.jpg
Omaha Media Group
https://www.omahamediagroup.com/images/uploads/monster_gallery/Omaha-Media-Group-Black.jpg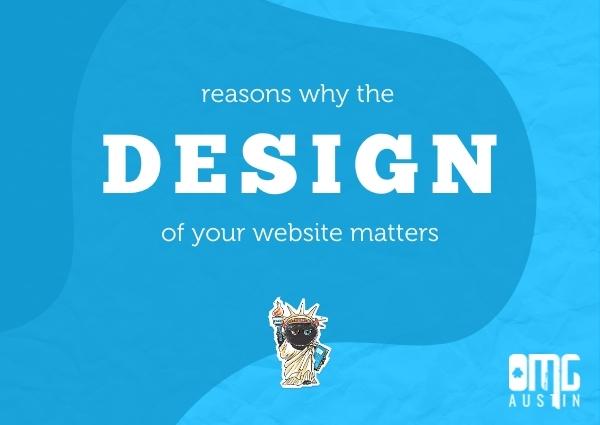 A website for a company is like a baseball for a baseball player. Without it, you cannot achieve your goals. Any company, from e-commerce to nonprofit websites, needs a website to track performance, increase brand awareness and build a relationship with consumers.
However, just having a website is not enough. It has to be designed well with the consumer in mind. 50 percent of Internet users say that a website's design impacts the opinion they have of the brand. Our website design company Austin is here to break down what web design is and why it is important for your business.
What is web design?
The first thing that anyone looking to build a website needs to know is what is web design? This term refers to the design of websites that are on the Internet. This aspect focuses primarily on the appearance and user experience of a website rather than the development side. Some elements of web design include appearance, layout, content, images, colors and fonts.
How often should your redesign your website
Just like seasons, technology and customers' needs change. That is why companies need to consider updating their website's design once every three years. This ensures your site stays updated to the latest trends and prevents a competitive advantage.
Reasons why the design of your website matters
How your website looks plays a critical role in completing your company goals. The website design company Austin experts have rounded up some reasons why web design should be an important aspect for all businesses.
Builds credibility
Whether your website visitors come from a social media post or search, they will judge your website right away. If they click on your website and see a bad design, they are more likely to click off the site and never come back. Reports found that 75 percent of consumers admit they judge a business's credibility based on its web design.
Increases leads
Aside from building credibility, a well-designed website can increase leads. The right design for your website can make it easy for customers to find what they are looking for and come back when they need to. Four things that every small business website needs are: easy navigation, simple web design, responsive design, and effective security.
Helps with Google rankings
One kind of website traffic every website wants to receive is organic traffic. This kind of traffic can be obtained with an effective SEO strategy. If your website is not designed well, it can actually hurt your chances of ranking high on search engines. Google and other search engines take into consideration the loading speed of your site and how long visitors say when it comes to ranking it.
Puts you ahead of the competition
A good way to distinguish yourself from competitors is your website's design. If your competitor has a bad web design, then having a well-designed website can make customers choose you over competitors. Plus, if you choose to hire a website design Austin company, you can get a custom design that is unique to your brand.
Hire a

website design company Austin team!

Whether you want to redesign your website or build a new one, let OMG Austin handle it. Our web designers and developers can create any type of website you could ever dream up. Come see why our client retention rate is a mind-blowing 98 percent. Contact us today!
Contact Us
We want to hear from you, so what are you waiting for? Contact us today.
Get In Touch
Share this post
Comments