Ways to improve your company's branding
Ways to improve your company's branding
/images/uploads/blog/OMG-Austin-05.04-Blog_.jpg
Omaha Media Group
https://www.omahamediagroup.com/images/uploads/monster_gallery/Omaha-Media-Group-Black.jpg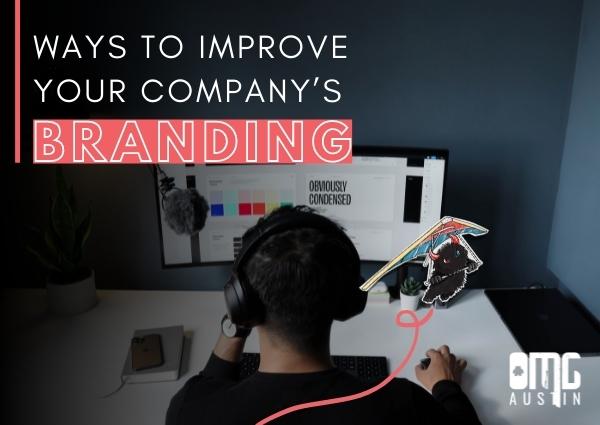 When you think about a company, what is the first thing that comes to your mind? Their products, services, logo or story? If any of these factors come to mind, then you are thinking about its branding.
Branding is a concept that helps people identify a company, product or individual. It can be a certain color palette, logos and slogans. A good example of a well-recognized brand is Coca-Cola. This brand has branded itself to be recognized based on its strong visual identity, inspiring human emotion and creativity. It is one of the reasons why this brand has become a household name.
If you want your company's brand to also become a household name, then you need to work on your branding and hire one of the best marketing firms in Austin. Our team has outlined why your company should have good branding and what are some ways to build a strong brand.
The importance of branding
As mentioned above, branding is what helps your company become more recognizable. There are other benefits to taking time and hiring one of the best marketing firms in Austin to improve your branding. For example, it helps in building trust, improving your advertising and creating loyal customers.
Branding helps build trust between you and your current and future customers. If your branding looks professional, people may be more likely to trust your company than those who do not have consistent branding.
Also, having good branding can improve your company's advertising. When running digital ads, a strong brand can help leave a lasting impression and increase the likelihood of people recognizing your brand and making a sale.
Ways to improve your company's branding
Determine your company's aesthetic
The first thing a person might see from your company is your website's design or social media. First impressions matter, so make sure your company's branding is consistent. Customers do not want to see inconsistent colors and logos. A report shows that having consistent branding increases your revenue by 23 percent. You want to determine your brand's color scheme and aesthetic. It will help your brand become more recognizable.
Establish or define your brand identity
Branding goes just beyond the colors and logo. The first step to improving your brand is understanding your brand's identity. Having a unique brand identity will help your company stand out from the competition. To establish or define your brand's identity, you should ask yourself these questions:
Why does your company exist?

What is your company's story?

What's your brand's voice?
Stay active on social media
A great tool for improving your company's branding is through the use of social media. By staying active and relevant on social media, you can increase your company's social proof. Customers love to see companies stay active and authentic on social media. Stay active by posting frequently and interacting with your audience.
Let one of the best

marketing firms in Austin help you!

Whether you are an established company or a start up, let OMG Austin help you with your company's branding. Our team of creative professionals can assist with everything from determining a color scheme to developing branded social media content. Contact us to get started.
Contact Us
We want to hear from you, so what are you waiting for? Contact us today.
Get In Touch
Share this post
Comments