UPDATED: Why you should hire a digital marketing agency
UPDATED: Why you should hire a digital marketing agency
/images/uploads/blog/OMG-Austin-08.22-Blog__1.jpg
Omaha Media Group
https://www.omahamediagroup.com/images/uploads/monster_gallery/Omaha-Media-Group-Black.jpg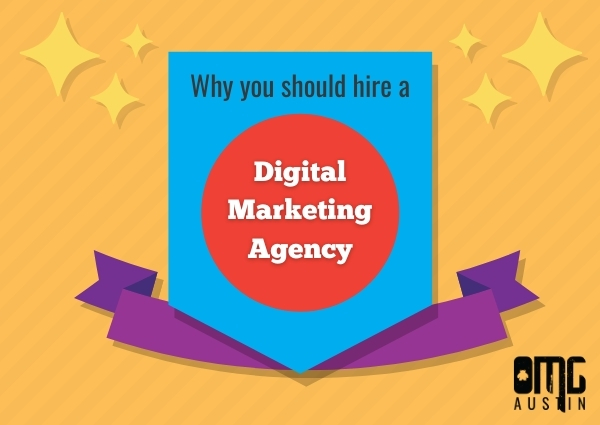 Digital Marketing is over 20 years old, but in all reality, it just started to gain traction and popularity with companies around the globe a couple of years ago!
This type of marketing takes old school marketing methods and combines them with new school marketing trends including social media marketing and search engine optimization strategies. Both of these strategies work together to provide a company with an overall digital marketing strategy!
As a leading digital marketing agency Austin, we provide the best digital marketing strategies in the Austin, Texas area.
If you are new to this world, then welcome! If you are looking to expand your marketing efforts, then welcome! Our experts work with a number of companies from small, local businesses to Fortune 500 companies who are looking to continue to expand!
Some business and company owners, board members and even marketing managers might have doubts about hiring an outside marketing team, but there is nothing to worry about! This is what a digital marketer does on a day-to-day basis:
Develop brand awareness

Social media marketing strategies

Search engine optimization

Writing blogs

Lead generation

Hashtag research

Reports and analytics
All of this and more can be handled by one of the leading digital marketing companies Austin like OMG Austin!
You might not have the room in your budget to hire an entire digital marketing team or a few individuals who can provide the skillsets you need. This is why a company should outsource to one of the leading digital marketing agencies Austin for one of the best solutions. You can hire one team of skilled individuals to handle all of your digital marketing strategies and more!
Another bonus to this is that these agencies have all the needed MarTech tools set in place from a scheduling platform to a graphic designer or access to tools that help them! This is another additional cost to a company because free trials will not provide the needed tools for a successful digital marketing strategy!
Professionals taking over your strategies
For a number of small to medium size businesses, and even large corporations, the dedication to digital marketing efforts can start to fall to the wayside! It happens in every company even for the smallest of items! For most small to medium size businesses, adding an entire digital marketing team to the list of employees needed is overwhelming and there is the chance it could fail.
On the other hand, when you hire an outside company, you understand you are hiring experts who are already established in their jobs and understand the ins and outs of the digital marketing industry.
Focus on your business
When someone else is sending out tweets, updating Facebook, writing blogs and working on SEO strategies, this leaves more time for you to focus on the business! This allows for more focus on client and employee relations, sales, expansions, meetings and everything else in-between. You are the professional in your industry, let the professionals in digital marketing work on your strategies.
Relevant in your industry
At OMG Austin, we follow an 80/20 rule in digital marketing. This allows you to promote your services and products, but also be a go-to in your industry for knowledge. Your blogs could be the perfect place to update relevant information on your industry.
An unbiased opinion
Your business is the best business, of course! We want to represent that on social media. As one of the leading digital marketing companies Austin, our professionals can help build your business's brand on social media, website traffic, authority with search engines and so much more!
We can provide unbiased opinions on what you have that is working and how we can improve on everything. Your brand is just as important as your business and selling it is vital for a growing business in a digital world.
Share this post
Comments