Website redesign: how to prepare
Website redesign: how to prepare
/images/uploads/blog/OMG-Austin-01.04-Blog_.jpg
Omaha Media Group
https://www.omahamediagroup.com/images/uploads/monster_gallery/Omaha-Media-Group-Black.jpg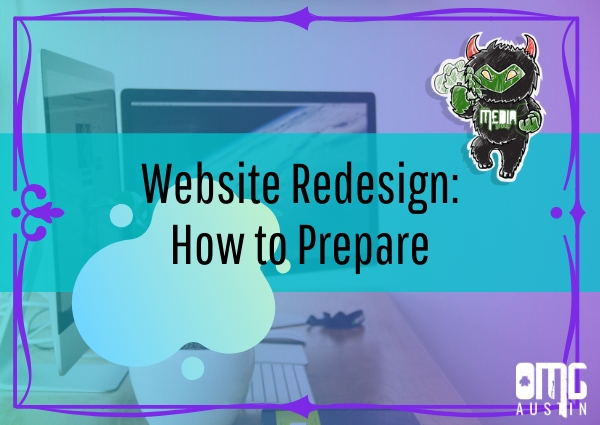 A website redesign might seem as if it is the best idea; however, going through a website redesign process alone can put a company up a creek without a paddle. (That is the nice way of saying it.) This is because consumers need more from a company's website. A consumer's average attention span is about three seconds and they make decisions about your company in less than two.
What are consumers searching for on your website? The basics, a beautiful design and to be told what to do. A website redesign should not be about just switching it up, it needs to be precise and follow branding while being mobile friendly. The length process of redesign can often catch companies off guard, but it is important to work with experts who can provide help from the beginning to end.
Here are five ways to prepare for a website redesign.
Without the help of website design Austin professionals, a company can embark on this journey mapping out all of the mistakes that professionals would advise to not follow through with.
The first step is the DIY way route. There are two main companies, such as Wix or WordPress that allow companies to create their own website. However, there are some risks for going this route from security to limited creativity.
It is estimated that two out of three people browse through a beautifully designed website. A DIY website could turn out to be a beautiful one with the right help, but more than likely, this website will be a failure and difficult to use for consumers.
The next step in the process is making sure that the website is responsive! A website that does not comply with mobile indexing could be hidden in the search engines, specifically in Google. How are these mistakes avoidable? Hire the leading website design experts who do this everyday for a living. What is the first step in all of this? An internal strategy.
2. Strategy, strategy and some more strategy
A website redesign is a great idea, but once a company gets into the nitty gritty of a website redesign and all its steps, it can start to get too complicated. What is the first step for any website design Austin redesign project, or matter in fact, any project with OMG Austin?
The first step is to figure out a strategy before hitting the vision board for the website. What are the exact goals for this website redesign? Here are some options to consider:
Has the company rebranded?

Is the website out of date?

Improve SEO

Bring X percent more traffic each month

Rework content to be mobile friendly

To be mobile friendly
As CrazyEgg states, "if your goals are to simply make your site look better or offer better information to your visitors, a total redesign isn't necessary."
Outline the EXACT goals that the company has in mind for this new website, because without these goals, just embarking on a website redesign can start to get costly for both the agency and the company. Once the ENTIRE strategy is outlined and every person is on the same page, the experts can start to the process of developing a website map (sitemap).
3. Sitemap
As a company, you are the expert in your industry. Where do you think consumers are going on the current website? Are consumers going to the pages that were intended? This is where the experts will figure out the current flow of your website. What pages are the most critical for your website? Which ones should remain just about the same with some updates?
A sitemap is different than the user flows. A sitemap helps a team plan for user behavior while a sitemap focuses on how this user will navigate the site with the needed organization of this sitemap. An example of user flows and sitemaps together is below:
This shows the pages of the website in their correct order, but also shows the flow of how users will navigate this website.
There are five to seven brand interactions before a consumer remembers a brand; along with that, most consumers make a judgement about if they can trust a company or not based on their website.
Branding the most important aspect in any company and website redesigns. If a company is currently struggling with brand identity, a redesign could be the perfect moment to find that brand voice and style; however, another notion to remember is to never just rebrand for the heck of it.
This step should be part of step number one and two. A company without a clear understanding of who they are, their voice, strategy or brand should not continue with a website redesign. Yes, it can be the perfect opportunity, but why is this important?
Our experts understand that sometimes a company has to rebrand for several different reasons, but always make sure it is best for the company and keep your consumers in mind.
What is the biggest goal for all companies who come to OMG Austin? Leads, goals and conversions! How can this website hit those goals and bring in those leads?
The first notion is to make sure to capture those new leads. The website needs to work with any email marketing, PPC ads, SEO or digital marketing efforts. A website that is fighting its marketing efforts will most likely falter on those conversions.
How will the sales funnel or information funnel work on the website? A sales funnel on a website is the path website visitors take on their to the buying or goal of the website. If the sales funnel's final step is for the searcher to fill out the "contact us" form, then how are visitors getting to that spot?
Here's a great example of a sales funnel:
How will all of this work together? What are the exact goals? Where do said leads go? How will these leads be nurtured into conversions? All of these questions are imperative questions that will be part of the website design Austin research.
Contact Us
We want to hear from you, so what are you waiting for? Contact us today.
Get In Touch
Share this post
Comments