Top digital marketing trends for 2022
Top digital marketing trends for 2022
/images/uploads/blog/OMG-Austin-01.05-Blog_.jpg
Omaha Media Group
https://www.omahamediagroup.com/images/uploads/monster_gallery/Omaha-Media-Group-Black.jpg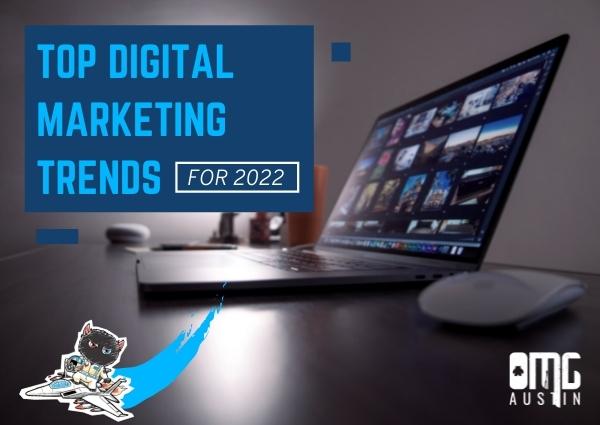 Digital marketing is a key tool that large and small companies use to reach their target audience, build brand awareness and learn about their customers. To create an effective digital marketing strategy, companies need to stay on top of the marketing trends for 2022.
Digital trends change every year to accommodate people's ever-changing needs. 2022 is no different. Check out this list of marketing trends you should expect to see in 2022 and how one of the best marketing firms in Austin can help implement these trends to fit your company.
Marketing trends for 2022
Google's Core Web Vitals
One of the SEO trends for 2022 that should not be ignored is implementing Google's Core Web Vitals. Back in June 2021, Google began to roll out its Core Web Vital update that focuses on user experience. This update is a set of metrics that measure a page's user-friendliness.
The more user-friendly the webpage is, the higher Google will rank it. The three measuring factors include loading speed, interactivity and visual stability. Making these changes to your website can ensure Google gives it a good ranking. This update should not be ignored because 53 percent of all website traffic comes from organic search.
Social commerce continues to grow
Last year, many social media platforms started to roll out social commerce features. These features allow social media users to buy or sell products directly from the social media platform. Social commerce simplifies the shopping process.
This trend should continue and grow in 2022. Users are already making purchases through social channels. Statista reports that over 55 percent of social media users in the U.S. aged 18 to 24 have completed at least one purchase through social channels. This number is only expected to grow, so hire one of the best marketing firms Austin teams to help you reach your social commerce goals.
Video form content
For almost a decade, the most visited website was Google. However, TikTok has taken over this title. A new report from Cloudflare found that the most visited Internet site and social media platform in 2021 was TikTok.
The popularity of TikTok has increased the demand for video content. Other social media platforms like Instagram and Youtube have also rolled out short-formated video features. We are confident that video content is not a trend, it's here to stay. Experts predict that by 2022 online videos will make up more than 82 percent of consumer Internet traffic.
Changes in digital advertising
Apple rolled out their iOS 14 update that gives users the ability to opt-out of sharing their data with apps. This update affects how companies do paid search and paid social because advertisers rely heavily on data sharing.
On top of that, Google is considering blocking third-party cookies from its browser. There is no set date on when it will officially block third-party cookies. For 2022, companies should rethink their existing digital advertising strategies to more accurately measure the success of ads.
Let one of the top

marketing firms Austin has to offer help you!

If you are looking for a marketing firm that can help implement these digital marketing trends, give us a call. Contact us to learn more about our digital marketing services.
Contact Us
We want to hear from you, so what are you waiting for? Contact us today.
Get In Touch
Share this post
Comments