Ways to improve your company's local SEO in 2022
Ways to improve your company's local SEO in 2022
/images/uploads/blog/OMG-Austin-02.02-Blog_.jpg
Omaha Media Group
https://www.omahamediagroup.com/images/uploads/monster_gallery/Omaha-Media-Group-Black.jpg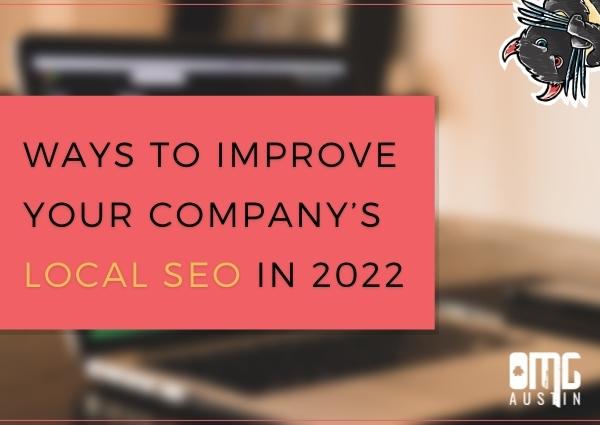 Search engine optimization (SEO) is optimizing your website for search engines. There are various SEO strategies used to accomplish specific goals. If your company's goal is to gain more local foot traffic, you will want to add local SEO.
This type of SEO is essential for local businesses because most people search to find nearby businesses. A report found that 97 percent of Internet users search online to find a local business. If your website is not showing up in local searches, you could lose potential customers.
That is why it is important for you to learn how to improve local SEO for your business. To help you through the process, our search engine optimization Austin TX team has created this helpful guide.
What is local SEO?
Local SEO is the process of optimizing a website for local searches on search engines like Google, Bing and DuckDuckGo. Adding this kind of SEO to your existing digital strategies is very beneficial if your business has a physical location. It can help people find your product or services online and offline. Some kinds of industries that would benefit from using local SEO are:
Restaurants

Dental offices

HVAC companies

Retail stores
How to improve local SEO for your business
Use a Google Business Profile
Google is the world's most used search engine. It processes over 40,000 search queries every second. Optimizing your company's site for Google searches is key to getting more online and offline traffic to your business.
You can optimize your site by taking advantage of Google Business Profile. This free feature allows businesses and organizations to manage their online presence on Google through Google Maps and searches. You can improve your company's local ranking by creating a profile and keeping it updated with the latest information, like store hours and directions.
Create a local landing page
If you want your business to get found in certain locations, you want to create a local landing page. This page is intended to help your site rank higher in local areas. Before you create a landing page, you need to do some research beforehand or hire a search engine optimization Austin TX company.
You will want to research what keywords or terms your target audience is using to find something or where you want your website to show up. It is important to note that if your business has various locations, you will want to make separate pages for each. That way, they can show up separately in search results.
Write local content
Another way to improve local SEO for your business is to create local content. Creating this type of content can get your site found on search engines and rank higher for local keywords and terms. One important thing to note is that an expected SEO trend for 2022 is longer-form content.
So, consider writing longer-form content on your company's blog about local events, trends or company updates. An example of local content is writing about holding a local fundraiser and who will be participating in it.
Hire a

search engine optimization Austin TX expert!

If you want to improve your company's local SEO, make sure to contact OMG Austin. Our SEO experts update your SEO strategies to ensure your website is showing up in your area. Contact us to learn about our SEO services.
Contact Us
We want to hear from you, so what are you waiting for? Contact us today.
Get In Touch
Share this post
Comments