What are customers looking for on your website?
What are customers looking for on your website?
/images/uploads/blog/OMG-Austin-10.10-Blog_.jpg
Omaha Media Group
https://www.omahamediagroup.com/images/uploads/monster_gallery/Omaha-Media-Group-Black.jpg
A user-friendly website in 2018 is all the rage! In 2015, over three billion people were using the internet on a daily basis. Fast-forward to three years later and that number has increase significantly. A business needs a website to keep up with current trends and customers.
If your business or company's website needs some TLC, we can be of assistance. Our Austin web development team can easily build a user-friendly, responsive website for you to help keep your business growing and bringing in more ROI.
These are some of the top elements customers are looking for on your website.
Your services and products
At OMG Austin, we often get clients looking for a number of different services from SEO to Austin web development. The best approach to the services or product page is to be clear and concise. You want visitors to come to your website, explore and want to learn more. There is a fine line between explaining your services and giving too much information away all at once.
Who is your company? It's crucial that your about us page explains who your company is in the sense of products and services that are offered. The key thing to remember is explain in terms that the client will understand.
You are the expert in your industry, and all of the jargon will make sense to you, but might overwhelm your potential clients. Are they reading your website and still confused?
Change that. Make it simple to understand who your business is as a whole and your products and services that are provided.
Who do they contact
A customer doesn't want to search around on your website to find who to call or get more information from. Whether you share the contact information for your business on the header, footer or a separate page on the website, make it easy to find. A great example of having customers easily find your contact us form or page is our website!
A customer can look at the header to easily find the contact us page. It shows them a phone number, email and services that should be selected to speak about. All in one location.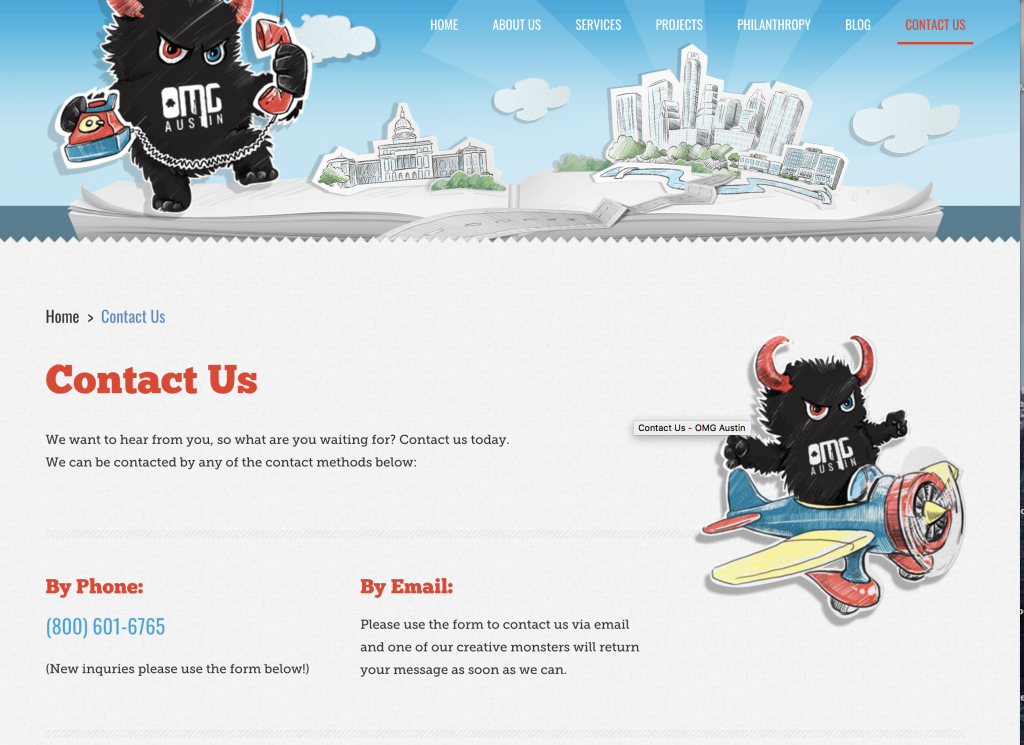 Customer reviews and testimonials are essential for your website. It helps with credibility in your industry. A number of five or four star reviews with great feedback from other clients will help establish your business as a leader in your industry. This can be anything from Yelp reviews for Google local reviews.
Responsive website
In 2016, a study showed that for the first time ever mobile devices were used for surfing the web more than traditional computers. Now, you want your website to be responsive! What does this mean?
A responsive website designed to restructure content so it displays in an user-friendly manner. This allows users to navigate company and businesses websites with ease.
Why can't my website just be mobile-friendly and that's good enough? Because a mobile-friendly site doesn't always allow users to navigate your business's website with ease.
Call to action
A call to action (CTA) tells your audience and customers where to go next. Once they find the services page, they need to know where to go. Should they contact someone? Should they email or go to your location? All of this needs to be clearly labeled for potential clients and customers. These are examples of common CTAs:
"Go here to learn more."
"Contact us for more information."
"Need help with these products or services, contact us!"
It's states that over 90% of people who look at a website will read the CTAs. Your conversion rate can increase with a simple CTA.
All of these elements could be the factor between new business and missed oppurtunities! Give the Austin web development team at OMG Austin a call today!
Contact Us
We want to hear from you, so what are you waiting for? Contact us today.
Get In Touch
Share this post
Comments