What does your nonprofit website need?
What does your nonprofit website need?
/images/uploads/blog/OMG-Austin-06.15-Blog_.jpg
Omaha Media Group
https://www.omahamediagroup.com/images/uploads/monster_gallery/Omaha-Media-Group-Black.jpg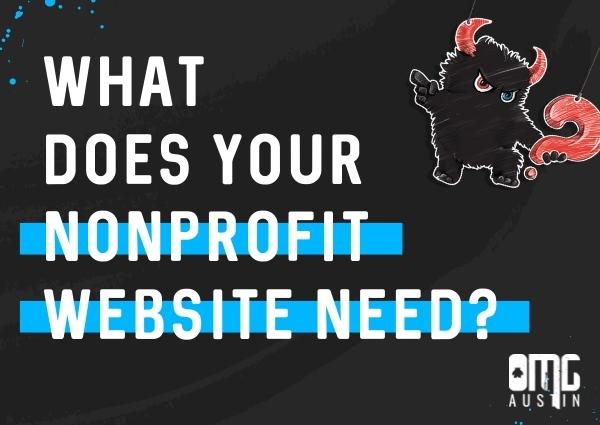 In the United States, there are 1.6 million nonprofit organizations that range from churches to cultural centers. These organizations help provide essential services to our communities for those who cannot afford themselves.
Aside from word of mouth, many people learn about these nonprofits through the Internet. Through the use of search engines, people can find your nonprofit's page and contact you. So as a nonprofit, you want to make sure that your website is searchable and user-friendly. Our web design company Austin team wants to share some ways on how to design a nonprofit website and things to include on your site.
How to design a nonprofit website
Just like designing any website, you have several options when it comes to designing and building a website for your nonprofit. You can do it yourself with the help of website builder platforms like SquareSpace or Wix.
Taking this approach may require time to find a layout that works best for your business. Or you can hire a web design company in Austin. They have UX website designs and graphic designers who design each website with your goals and searcher in mind. Plus, they can also maintain your site, so you have one less thing to worry about.
Now that you know about the two popular ways to design your nonprofit's website. It is time to learn what your website needs to include to be successful.
Three things your nonprofit's website needs
A visible button
Gathering donations is one important aspect every nonprofit needs to focus on. Acquiring a certain amount of donations each quarter allows you to continue to provide your services to those who need them the most in your community. In order to get donations, you need a website that makes it easy for people to make generous gifts.
Adding a visible donation button to your website makes it easy to collect your donations. Having one is not enough. You also need to place it where everyone can see it. Experts recommend adding a donation button on the top of your website. Some calls to actions that will encourage more donations include:
Donate

Donate now

Support our cause
Make your story clear
Storytelling is one very important aspect every nonprofit should focus on. It is what helps spread your nonprofit's charisma and impact while attracting more donors. Stories help create context, move people to act and create empathy.
In your nonprofit's website design, you want to include your nonprofit's story. You can accomplish this by creating a mission page that highlights your nonprofit's story and helps define your mission about why you exist. Another way you can incorporate your nonprofit's mission is through homepage spotlights - show the faces of those you have helped in the community.
Make your website responsive
Your next donor might not find your website through a search on their laptop. They might find it while scrolling on social media. That means that your website's nonprofit page should be responsive no matter what device your audience finds it on.
Making sure your website has a responsive design allows websites and pages to display on all devices and screen sizes. A report has found that 42 percent of people will leave a website because it is performing poorly.
Let a

web design company in Austin design your nonprofit website!

Our web designers can design a custom website that fits your nonprofit's unique branding. Or they can help you elevate your website's existing web design. Contact us to learn more about our web design and development services.
Contact Us
We want to hear from you, so what are you waiting for? Contact us today.
Get In Touch
Share this post
Comments