PPC and website development working together
PPC and website development working together
/images/uploads/blog/OMG-Austin-03.18-Blog_%281%29_.jpg
Omaha Media Group
https://www.omahamediagroup.com/images/uploads/monster_gallery/Omaha-Media-Group-Black.jpg
Ah, PPC ads. A PPC advertisement is great for promotions, new markets and reaching an audience faster. The right advertisement will use several different marketing strategies while corresponding with the website.
The thing with PPC ads is that the PPC Austin TX strategies and website development all have to work together to bring the most success.
In the marketing world, there are two forms of SEO that work together, there is SEO itself and then there is SEM.
The rundown: any SEO services Texas offered with PPC will begin with using SEO strategies. This starts with market research about the target audience, and from there, the best keywords to specifically target that audience.
A SEM strategy involves a landing page. This landing page is crucial to the success of the PPC advertisement. This is because a landing page navigates consumers and customers to the correct products and services while being optimized with SEO strategies and the ability to track ROI.
The landing page is essentially the home base for the advertisement set in place. For an ecommerce website launching a new product, the best thing to do is connect the landing page for the products as the URL for the advertisements. This is done for several different reasons, but all of this needs to be optimized with PPC Austin TX professionals.
These are the ways a PPC landing page needs to be optimized:
Keyword research to target the specific audience for that advertisement only

Landing page provides its own place for optimization

without messing up any other pages

It's optimized with the rest of the website

Tracks ROI

Is an extension of your website
So, the importance of a PPC advertisement not only involves SEO services Texas but a well designed and user-friendly (UX) website.
While getting the right consumers to your PPC advertising is important, it's just as important to make sure that first click takes them to the right place. There are a couple of key concepts when it comes to the success of the entire PPC strategy and it involves your website.
A website needs to be responsive in a world of consumers using their smartphones to make purchasing decisions. There is a mixture of desktop usage and mobile phone, but it has navigated towards more mobile usage. A responsive website works with mobile phones without users having to zoom in or scroll all over the website.
70 percent of consumers state that the longer a website takes to load the more likely they are to find a new page. A site can be easy to navigate, easy to read, be optimized but if it's slow then you're losing customers. You have no more than three seconds to keep customers on the landing page.
Let's search for rain boots on Google. The first thing that comes up is a PPC advertisement from JC Penney's. If a purchaser was to click on this page, it should take them to a specific landing page or part of the website that has been optimized.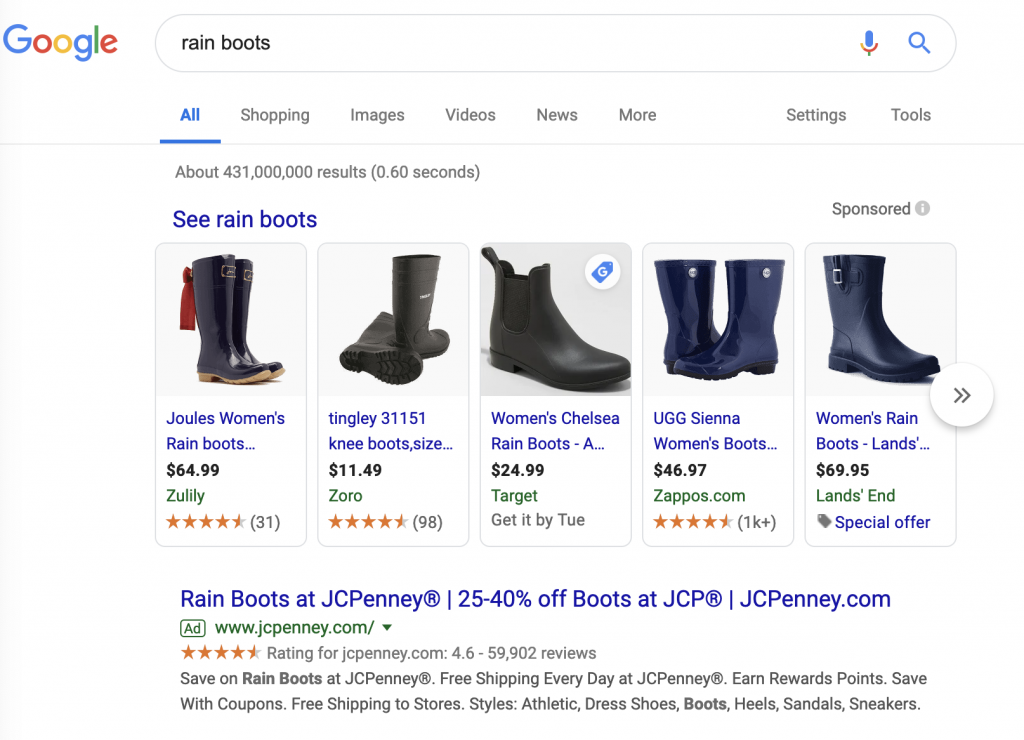 Once we click on the advertisement, it takes us directly to rain boots page with several options to choose from. The website speed was fast, the page was optimized and its user friendly. This is a great PPC advertisement.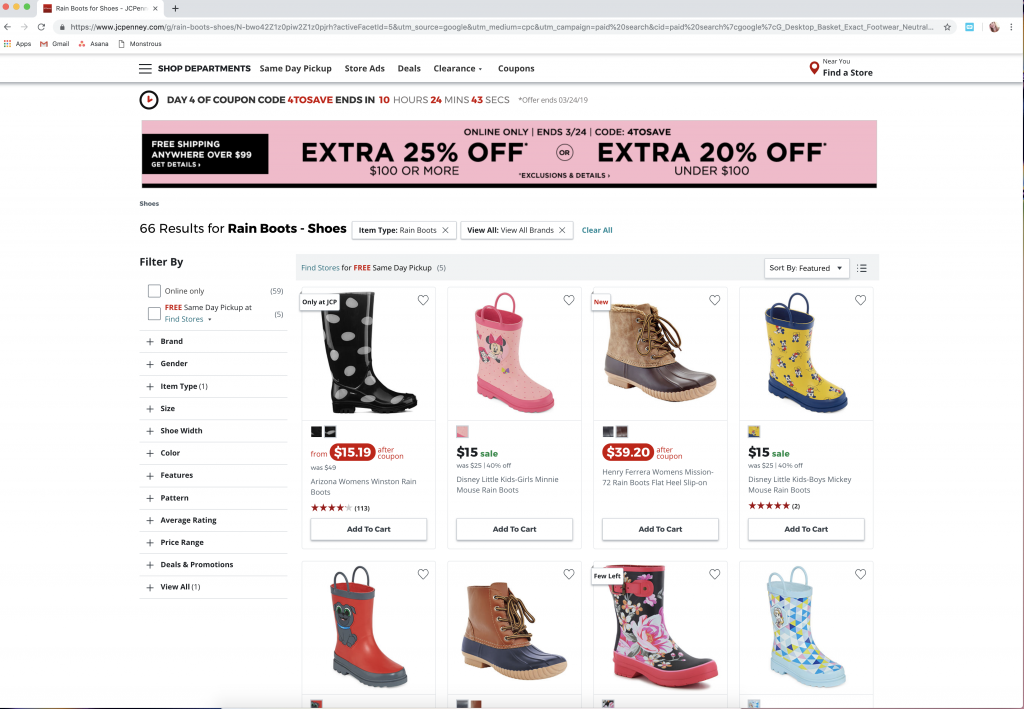 The keywords, the SEM strategy, the landing page and website all work together to create a successful advertisement. This is why your PPC advertisements should not only be optimized but the website as well.
For any information on PPC ads or SEO services Texas, contact the leading marketing and website development company OMG Austin!
Contact Us
We want to hear from you, so what are you waiting for? Contact us today.
Get In Touch
Share this post
Comments