Digital marketing myths
UPDATED: The scariest digital marketing myths
/images/uploads/blog/OMG-Austin-10.21-Blog_.jpg
Omaha Media Group
https://www.omahamediagroup.com/images/uploads/monster_gallery/Omaha-Media-Group-Black.jpg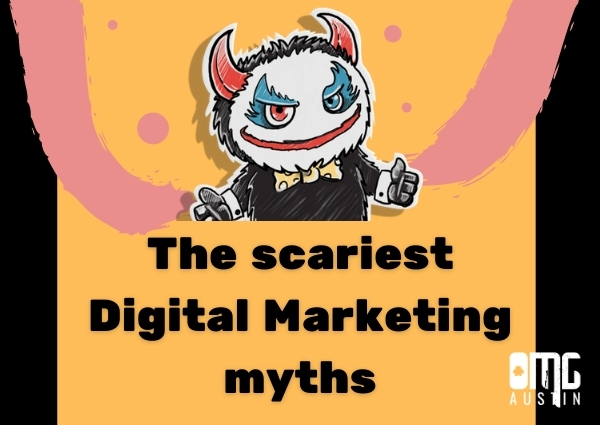 With so much information online, it can be difficult to decipher between what is real, what is kind of real and what is false! With that notion in mind, everyone is also an "expert" in any industry. Anyone with a laptop, a blog and a Facebook page could be an "expert" but the thing is, there is misinformation being spread by the said experts.
These are the top digital marketing myths that our OMG Austin experts are here to debunk!
Oftentimes, a business sets up a Facebook Business page (which is great), but they only ever promote their services on Facebook. While Facebook is the second largest social media platform out there, only posting to Facebook might not be helping the company.
If Facebook is still the largest social media platform that consumers are utilizing, why isn't that just enough? For one, is your target audience even on Facebook? This is imperative to understand when starting a digital marketing strategy. One of the biggest digital marketing myths is that only one platform is enough.
It is imperative to spread your content across different platforms because it helps your company promote its products and services, but at the same time, it helps to create stronger and more consistent brand impressions.
A free channel to sell ALL of my products ALL of the time?! Awesome. Not awesome. This is one of the biggest issues when it comes to digital marketing efforts. The internet is saturated with content, videos and advertisements, and consumers are oversaturated with it.
A company that continuously sells and "brags" about how great they are end up hurting their digital marketing efforts. It is estimated that 45 percent of followers will unfollow your page if there are constant promotions.
Our Digital Marketing Strategists recommend that all companies follow a consistent ratio of industry, engaging content with promotions. This is known as the 80/20 rule in our industry. This can also shift depending on said industry to 70/30 or even 60/40.
SEO is dead
SEO is not and never will be dead. Repeat after us, SEO is not dead. This is one of the most common digital marketing myths out there that owners believe. There are one billion websites on Google. One billion websites for thousands of industries and a website without SEO will never rank by itself.
Without SEO, a company with a website will never rank in search engines. Google is responsible for 94 percent of all organic traffic and organic SEO is about 5.6 times better than paid search ads. What does that mean? SEO is not dead, especially not organic SEO.
"If you build it, they will come." This is one of the oldest understandings when it comes to digital marketing strategies. This is because even the most modern, beautiful and responsive website still needs digital marketing strategies. Without on-page and off-page SEO, social media marketing and other strategies in place to drive traffic to the website, the website will take even longer to grow.
A website helps to create a strategic understanding of your company's digital transition and provide a better, more modern outlet for leads and sales, but without a presence on search engines, this will all falter.
Contact Us
We want to hear from you, so what are you waiting for? Contact us today.
Get In Touch
Share this post
Comments