What's the best word count for SEO?
What's the best word count for SEO?
/images/uploads/blog/OMG-Austin-09.16-Blog_.jpg
Omaha Media Group
https://www.omahamediagroup.com/images/uploads/monster_gallery/Omaha-Media-Group-Black.jpg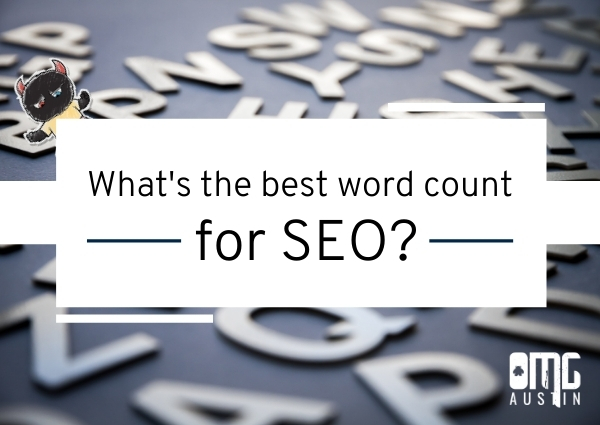 As the Search Engine Result Page (SERP) continues to be bombarded with new content every 228 million searches on Google each hour, the competition is tough out there for any company or personal brand. With this in mind, since 2017, SEOs, Digital Marketers and companies alike have all thought, "What's the best word count for SEO?"
Our SEO company Texas tells all new clients that at minimum a landing page, service page or about us needs 350 words with keyword research and off-page SEO strategies implemented. The blogs that our Austin TX SEO experts write for each of our clients on a weekly basis range anywhere from 500-1,000 words with keyword research specific to that blog content.
Our clients ask us, "How many words do I need to write?" And our expert, with a slight laugh, let them know 300-500 words for each different service page! Their response? It kind of goes something like this, "What?! That is so many. How will I ever write that content?"
This is typically where clients in the process of the website redesign and development project get a bit hung up on because writing content is difficult. Our Austin TX SEO experts do this for a living, and some days, it is even hard for us.
However, is there really a magic word count? If you hit 500 words with your blog will it rank? It can and it cannot. There is that famous SEO answer.
The myth behind word count
Does this even matter?
Yes and no. Word count matters because of the competition between companies on search engines. In a research study from ahrefs in 2017, their research showed that the top pages ranking in search engines had a 1,000 word count on each one of their top ranking pages.
In 2018, ahrefs did the same research study, but found that the word count upped from 1,000 words to around 2,000 words.
So, the higher the word count the better? Does this mean that you need over 2,000 words on each page to rank in search engines?
Another research study found that these higher word count blogs had more quality backlinks attached to them which resulted in those pages being deemed more credible and having a higher authority in Google's search engine.
To answer the question above, "Does this even matter?" Yes and no. Again with those famous answers.
How does it matter but doesn't matter?
In 2019, John Mueller, Google's Web Trend Analysis simply stated that word count does not matter and that it is not a ranking factor. This is because of high quality, unique content that is optimized could easily be done in 500-700 words and be deemed better quality by searchers and search engines alike.
OMG Austin, a SEO company Texas, asks for a minimum of 350 words on website pages and 500 words for blogs because you can get quality and unique content within those suggested word counts and still be optimized without keyword stuffing or throwing the searcher off.
Google's own SEO guide states, "content should be factually accurate and clearly written and comprehensive." Comprehensive does not mean you need to write a 2,500 word blog to rank on the first page of Google. This means publish your best work and follow their ranking factors while doing this.
What's the best word count for SEO? It depends.
Share this post
Comments