Which digital marketing strategy to use to achieve your business goals
Which digital marketing strategy to use to achieve your business goals
/images/uploads/blog/OMG-Austin-07.13-Blog_.jpg
Omaha Media Group
https://www.omahamediagroup.com/images/uploads/monster_gallery/Omaha-Media-Group-Black.jpg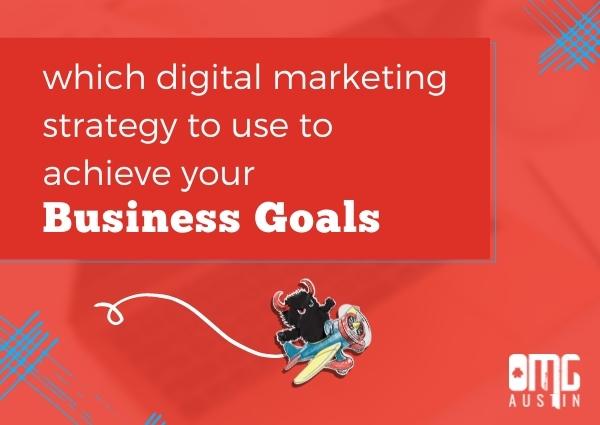 A common question that many business owners have is what is digital marketing. Digital marketing is a form of marketing on the Internet. It uses digital channels like social media, search engines, email and mobile apps.
The reason why many businesses, especially small businesses, use this form of marketing is that it is an affordable way to market your business and get measurable results. The first step business owners should take is figuring out which digital marketing strategy will help them achieve their goals.
Our digital marketing Austin team has created this helpful guide to help you choose a digital marketing strategy to reach your business goal.
How can you help local customers find your location
You want people to be able to find your physical location. There are multiple digital marketing strategies that you can use to help customers find your current, upcoming, or multiple locations. Digital marketing Austin experts suggest listing your locations on search engines by using Google Business Profile and using search engine optimization (SEO).
Google Business Profile is a free way for businesses to list their business on search engines. It allows companies to provide address information, store hours and contact information. Another way is by using search engine optimization (SEO). This form of digital marketing strategy optimizes your company's website for search by using on and off-page techniques.
How to let customers know about my business hours
Businesses are always changing, especially during the holiday season. If you are looking for a digital marketing strategy that will help let your customers know about your change in store hours, digital marketing experts advise you to use social media.
This digital channel allows you to give your customers first-hand information and updates about your business. It is an easy way to share information; all you need to do is choose which social media accounts your customers are using.
Then, create a social media marketing strategy to grow your channels and build relationships with customers. Do not forget to keep track of your company's social media metrics.
How to get and collect feedback from my customers
Collecting feedback from your customers is an effective way to improve your business. They can give you insight into what you should improve or give your ideas about your next product or service. If you want to collect feedback, our digital marketing Austin team suggests you use email.
Through email marketing, you can send out an email survey to your subscribers. The benefit of using this method for surveys is it is cost-effective, easy to gather information and gives customers time to respond.
Are you looking for the best

digital marketing Austin agency?

Choose OMG Austin! Our digital marketing experts can customize a digital marketing strategy that fits your business's unique needs. We handle everything from SEO to social media marketing. Contact us today to get started!
Contact Us
We want to hear from you, so what are you waiting for? Contact us today.
Get In Touch
Share this post
Comments